Of the six depot types I'll be describing in this series, GEO Depots are probably the least fully-baked of the concepts for me, mostly because I've only had limited involvement in the traditional GEO satellite world. But I wanted to share a few preliminary thoughts about how one would do depots in support of activities in the Geostationary belt before moving on to talk about more traditional depots. And before getting into the specific characteristics I think GEO depots will likely have, I wanted to share some background thoughts on design drivers for GEO depots, to walk you through my logic on where I think things will go.
Background on Geostationary Orbit
First off, for those of you newer to spaceflight, what is the Geostationary Belt1? Basically, when people talk about GEO they're typically talking about a circular equatorial earth orbit whose altitude (~35,786km) is such that its orbital period is exactly one day, meaning that to an observer on earth, the satellite always stays in the exact same position in the sky. Sir Arthur Clarke came up with the idea of using such orbits for telecommunications in the 1940s, and today there are hundreds of GEO satellites, providing not just communications, but also weather observation, and other commercial, scientific, and military functions.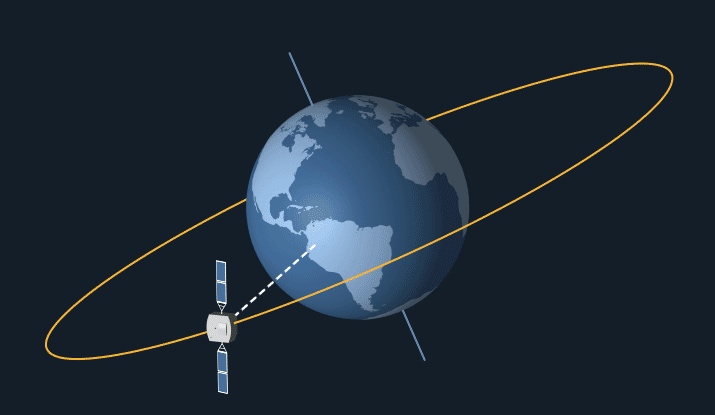 Satellites in GEO experience various orbital perturbations2, that require stationkeeping maneuvers to prevent the satellite from slowly drifting out of position. These stationkeeping maneuvers amount to ~52m/s per year of delta-V requirements. Satellites are designed with enough propellant to not only get to GEO, but to perform stationkeeping for a certain amount of time, and then at end of life boost themselves up to a "graveyard orbit" that's typically ~200km above GEO.
One nice thing about GEO compared to LEO is that pretty much everything is in the same plane, heading in the same direction, all moving at about the same velocity3. Which means that moving between different GEO satellites never requires costly inclination changes. You basically raise or lower your orbit into an orbit with a slightly different orbital period and either catch up with the new satellite, or let it catch up with you. But to give you an idea of scale4, an object in the graveyard orbit, 200km higher than GEO, will take ~10min longer to complete an orbit, which means that over the course of ~140days, the GEO satellite will "lap" a spacecraft in the graveyard orbit5. I'll get into why this matters later.
Another characteristic of GEO is that most GEO satellites are pretty big. Some GEO satellites are bigger than a school bus, can weigh several tonnes, and cost hundreds of millions of dollars. There are some groups like our friends at Astranis that are trying to develop GEO smallsats (~350kg in their case), but the vast majority of GEO satellites, whether commercial, civil, or military, are over 1 tonne.
Because of the very expensive nature of satellites in GEO, there has been a lot of interest in servicing GEO satellites, primarily to extend their life. Most GEO birds are designed with ~15yrs of propellant on-board, and normally when they run out, they have to be boosted to a graveyard orbit to avoid becoming a "zombiesat" that endangers other GEO operators. However, in many cases by the time the propellant starts running low, the satellite may still be economically useful. Maybe it's been transferred from a higher value orbital slot to a lower value one (one owned by a less populous or less well developed country), but in many cases, the satellite can still be producing millions or dollars per year of revenue. Because of these realities, several companies have proposed servicer vehicles that could fly up to a satellite that's almost out of fuel, dock with it, and then either refuel it or provide "jet pack" services where the servicer takes over stationkeeping maneuvers. Our friends at Northrop Grumman Space Logistics Services finally pulled off the world's first successful commercial satellite servicing mission just this year, with their MEV-1 vehicle. Other players in the field include our friends at Astroscale/Effective Space6, as well as our friends at Maxar7. Since GEO satellite aren't typically designed for servicing, these missions have focused on leveraging structural features on GEO satellites (liquid apogee motor nozzles, or the separation system hardware left on the satellites after they're released by their launch vehicles) to mechanically grapple the satellites. Initial servicing missions are focused on what I was calling "jet pack" services where after grappling with the client satellite, they take over stationkeeping and other propulsion requirements. But most of the players have plans to move to fancier services, such as using a servicer to clip on a Mission Extension Pod to provide the jetpack services without tying up the more expensive servicer, or using robotic manipulators to fix stuck deployable structures, etc.
One final attribute of GEO is how things get there. Most GEO satellites are launched on a rocket into a Geostationary Transfer Orbit (GTO), which has a perigee down in LEO, and an apogee up at or above GEO8. Occasionally, mostly for military GEO satellites, the rocket will also then perform a second burn at apogee to circularize the orbit and drop the satellite off directly in GEO, but for most commercial satellites, the satellite itself provides the ~1.5km/s worth of maneuvers to raise perigee, lower inclination, and circularize in GEO. Some satellites do this quickly, in a small number of chemical propulsion burns9, others take months slowly spiraling out using more efficient solar electric propulsion.
What I think This Means for GEO Depots
My first opinion when I started looking at GEO depots, was that because it was a lot easier to get around GEO without using lots of propellant, that maybe it would make sense to have a single aggregated depot, located in a circular orbit somewhat above GEO. But then several factors made me reconsider that as I dug deeper:
First, at 200km above GEO, you're talking a very long time for the depot to make it's lap around the GEO belt. Servicers are expensive, so you don't want to have to wait forever to replenish/resupply. You can cut into that time by having your depot higher than GEO (where the relative orbital periods mean that it takes less time to do a lap around the belt), but the round trip delta-V requirements start growing pretty quickly on you. Including a rendezvous with the depot, you'd be at over 60m/s of round-trip dV with a depot 800km above the GEO belt, but it would still take over 1 month for it to do a lap, which means you could be waiting for weeks. If media reports that Intelsat is paying Northrop Grumman $13M/yr for MEV jetpack services are correct, that means that waiting a month could be costing you $1M worth of revenue.
Also, because most missions, and thus most rideshare opportunities go to GTO, not GEO, you're going to have to use a decent amount of propulsion to get any propellant or supplies (spare extension pods, tools, etc) up to the depot10. Sending a tug down to pick things up in GTO and bring them back to GEO may be possible, but that's a lot of dV 11, and for low-thrust, potentially several months. I haven't done the detailed trades, so I can't be sure, but I think this suggests that in many cases you'll want the depot deliveries to be self-propelled to some extent.
Also, because no GEO satellites are currently designed for refueling, most of what the depot(s) would be storing will be propellant, extension pods, tools, and other supplies for servicers themselves. That means that almost all depot customers in GEO will be satellite servicing vehicles with full rendezvous, proximity operations, and docking (RPOD) capabilities, and in many cases with sophisticated servicing robotics.
Lastly, all GEO servicers I've seen use either storable chemical bipropellants or storable electric propulsion gases. Nobody tends to use cryogenic propellants or other things that need careful thermal design or active cooling.
To me, all of these things undermine the case for a unitary depot, and push me in the direction of a more distributed depot arrangement, like in LEO. Basically, you don't want to have to take a long time to get to/from a depot, so having more than one of them spread throughout GEO makes sense. Since you likely will need on-board propulsion anyway to get your supplies into the depot orbit, it's harder to have a dumb tanker that supplies a more sophisticated unitary storage facility. Since your customers all have to have RPOD capabilities, and most have robotics, there's less need for that on the depot side, so once again less benefit to a centralized depot that can amortize its robotics/RPOD capabilities over lots of customers. Lastly, since the propellant mostly doesn't need much propellant conditioning, there's not a big advantage for storing it in a larger quantity like there would be if the propellant needed was cryogenic.
Anyhow, so based on all of that, here's my best guess at what I think we'll see for GEO depots.
GEO Depot Characteristics and Considerations
Application: Propellant for refueling GEO servicers and "extension pods"12, spare extension pods, and tools for servicers.
Location: In a circular orbit at moderately higher altitude than GEO (likely 100-400km over GEO), spread out fairly evenly to minimize the wait time before a depot has drifted close enough to boost to and rendezvous with.
Note that for propellants, one depot location is like another, but for specific tools or pods, it may be important to have the depot preposition itself in the right orbital position relative to the servicer, rather than just going to any old GEO depot.
For payloads launched via PODS or similar GEO-insertion opportunities where the material may not have its own propulsion, it may need a servicer to capture it, and drag it up to a safe operating altitude for temporary storage if it's not needed right away.
Depot Size: Likely ESPA class (180-400kg). Most rideshare opportunities to GTO are via ESPAs or similar adapters. PODS-delivered options may be more in the 100-150kg range.
As described elsewhere, I see these depots as likely being one or more propellant tanks, attached to a propulsion system, with some basic spacecraft bus functionality. They likely wouldn't have RPOD, but would likely have grapple fixtures, and possibly some servicing ports for attaching tools, pods, or transfering propellant, or attaching dumb payloads that need to be attached to something capable of stationkeeping.
It's possible that the propulsion/bus system that delivers the payloads from GTO could be some sort of deployer tug like what Rocketlab is doing for Photon or what Spaceflight is doing with their SHERPA vehicle. Which means that in theory, the system might also be delivering some smaller GEO satellites along the way to getting into a depot parking orbit.
Propellant Types: Storable chemical propellants and EP propellants. Unlike LEO, there's a lot more standardization of propellant types in GEO. Most GEO satellites, once they're all the way in GEO use either something in the Hydrazine family as a monopropellant, or Xenon as a EP propellant.
Though as with all other depot types, the propellant type chosen is going to be driven by what clients (in this case servicers) are looking for. Xenon seems like a likely first bet for most customers, though Hydrazine or one of its variants (MMH or UDMH) might also be first.
In addition to just the propellants, the depots would also likely be storing tools, "pods", and other hardware supplies.
Other Characteristics/Considerations:
If PODS or other direct GEO insertion options result in significant numbers of deliveries of dumb cargo pallets or tanks, it could be beneficial to haul them up and attach them to one of the self-propelled depots, because in that case the PODS themselves would lack the stationkeeping and other functionality you'd get from a self-propelled tanker.
But given the tradeoff between lapping time and round-trip dV to depots, I think you'll still want to keep things fairly small overall, since you'll want to have a large number (maybe eventually more than a dozen) smaller depots.
Because GEO is so hard to reach from any place you could likely get propellant from, I don't see the likelihood of reusable tankers being used to fill up a permanent depot tank, I really think you'll be talking about expendable tankage for the most part.
However, the tankage is a lot more likely to last for more than one refueling — since there's a lot of variation in sizes of servicers, so most tanks will likely be involved in multiple refueling. And if a tank starts getting relatively low, it might be worth transferring a little from one tank to another tanker/depot before retiring the empty tank.
Because these depots would already be operating in a safe GEO graveyard orbit, they won't need further disposal delta-V. Though since the use of graveyard orbits may not always and forever be best practices for GEO disposal, having grapple fixture on-board could be a good idea to enable future disposal missions — but you'd probably want those anyway just for making refueling operations easier.
As I said up-front, of all the depot concepts, this is the one I feel least definite about. I'd love to hear other people's thoughts, but I tried to do my best to put together some logic and rationale for how I think things would turn out, and why.
Next-Up An Updated Propellant Depot Taxonomy Part IV: Smallsat Launcher Refueling Depots
The following two tabs change content below.
Jonathan Goff is a space technologist, inventor, and serial space entrepreneur who created the Selenian Boondocks blog. Jon was a co-founder of Masten Space Systems, and the founder and CEO of Altius Space Machines, a space robotics startup that he sold to Voyager Space in 2019. Jonathan is currently the Product Strategy Lead for the space station startup Gravitics. His family includes his wife, Tiffany, and five boys: Jarom (deceased), Jonathan, James, Peter, and Andrew. Jon has a BS in Manufacturing Engineering (1999) and an MS in Mechanical Engineering (2007) from Brigham Young University, and served an LDS proselytizing mission in Olongapo, Philippines from 2000-2002.
Latest posts by Jonathan Goff (see all)